This piece was published on the website of the Elsewhere, a journal of place, on 25 September 2017
This is a story of a rather unusual bus journey to the end of the line in Edinburgh, a discovery of an industrial museum witness to centuries of change and my own transition in moving to a new city and country.
I have always been drawn to the theme of transition both in my private life – often moving flats, cities, countries – and in my photography – which often features urban spaces undergoing change. When I first moved to Edinburgh from Germany, I had a reverse culture shock. I had to relearn a British culture that I had left behind fifteen years ago. To be honest I was happy that I had washed up in Edinburgh and not South of the border. It felt closer to Europe, the tenement-style buildings also reminded me of Berlin. As an English person, it was also nice to still feel foreign, to learn Scots phrases, hear poems read in Gaelic and learn about Scottish culture through my sons' school education.
When it came to taking photographs and negotiating the city I was less comfortable. I almost felt that as an English person I didn't have the authority to go out there and reframe the landscape through my camera. Apart from that, I had no idea of the geography of the city and didn't know where to start. Then I came across came across (g)Host City, a kind of sound-map of Edinburgh to download where you can hear a story or a poem set in a particular location of the city. I decided to take an 'unreliable bus tour' by Japan-dwelling Scot, artist and musician, Momus. It gave me the framework (and courage) to set off to those mysterious sounding destinations on the front of buses I had seen in town: Wallyford, Ocean Terminal, Hyvot's Bank and Bonally. I cannot really describe the surreal, dark and funny tours he gave, as that is something to discover for yourself.
On one journey I wasn't sure if the bus had actually reached the end of the line. It seemed to circle back so I just decided to get off. The audio tour had ended, my google maps app was not working and suddenly I found myself off map. Two bus stops stood baldly on opposite sides of the country road, the only punctuation marks in an otherwise unreadable flat landscape. Should I go left or right or take the bus back? I decided to follow my nose. Walking down a winding B-road I saw another marker in the landscape, an exclamation mark of an industrial chimney stack. I was alone, not having seen another pedestrian since I had left the bus, and was glad to see some sign of civilisation. A pit head winding-gear came into view. As I walked closer I saw a bricked wall with tiles with illustrations of former industries; fishing, pottery, coal, and brickworks. Through serendipity I had found the Prestongrange Industrial Heritage Museum located on the north-east coast of East Lothian. For centuries this area was the centre of intense industrial activity, with a busy harbour, Morrison's Haven. Now you can just see where the harbour used to be, a rectangular outline on the grassy bank, marked with a sign on the 'bygone years', the sign itself nearly faded away through the erosion from the sea air.
At the museum I found myself donning my headphones again, this time to listen to an audio-tour of the outdoor exhibits narrated by the late artist John Bellany who grew up nearby, conjuring up, not so different from Momus, an alternative world to the one you see with your own eyes. From Bellany's stories of Prestonpans you visualise a lost industry; the smoke billowing from the Beehive Kilns that once produced bricks for the buildings of the New Town. Or you find yourself at its mid-eighteenth century heyday with ships loaded with salt, oysters, ceramics, sulphuric acid and coal, or bringing silk, furs from Canada, whalebone and French brandy in return. In the nineteenth century, Irish workers, who first arrived in the West of Scotland, are brought with their families and their traditions to the East by new investors, Summerlee. These new owners also improved workers' conditions, installing indoor plumbing to the mining workers' housing. Electric generators replaced the steam engines in the powerhouse and electric street lighting was brought to the area. Today the powerhouse houses art exhibitions. I was so taken with the museum, and the fact that I was free to wander with my camera making my own discoveries of an overgrown railway bridge and train tracks in the surrounding forest, that when I returned to the visitor centre the assistant said that she had been thinking of sending out a search party.
As I left Prestonpans, walking west along the coastal path towards Musselburgh, I came across a quite alien landscape. This was not the Edinburgh that I could have imagined existed when I had set out on my 'unreliable bus tour' that morning. I had found, however, something equally strange. A vast cracked grey landscape stretched out before me towards the sea, made infinite by the fog that was closing in. These are called 'lagoons', a salubrious name for a place where Scottish Power deposited waste ash from the now closed Cockenzie Powerstation.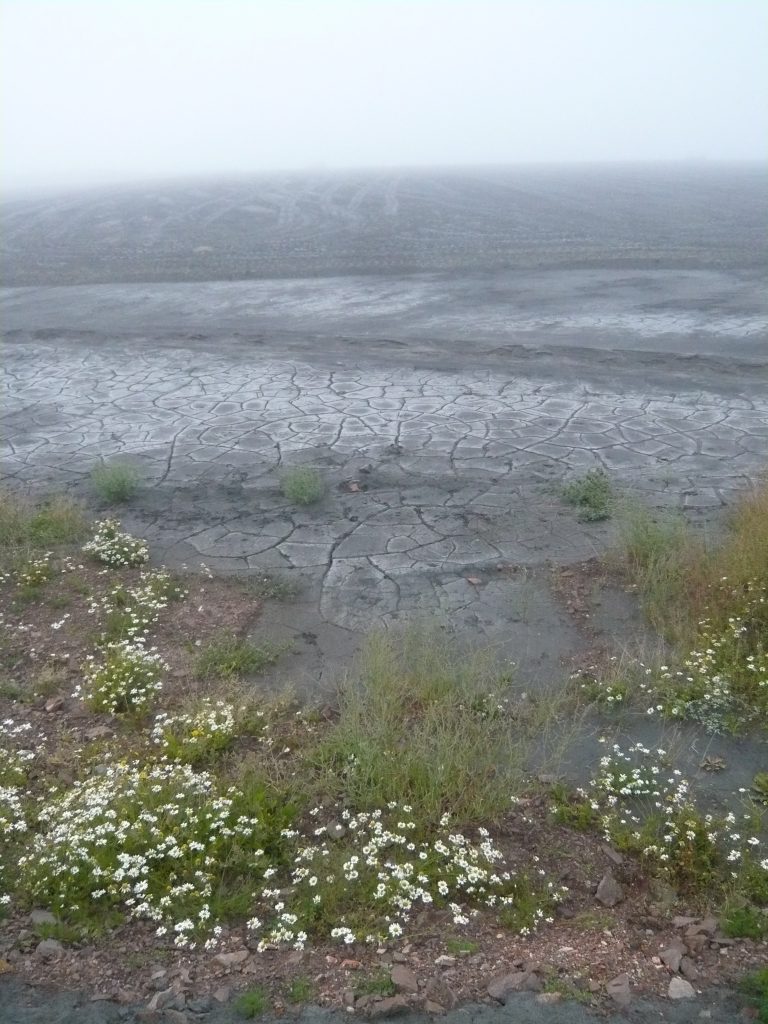 In these coastal areas, the delicate balance of man and nature is most apparent. The oysters that the Edinburgh population once enjoyed with their French Claret disappeared towards the end of the nineteenth century overfishing, new dredging methods and pollution from sewage and industrial waste. As industry disappears, nature reclaims, and also in this case offered opportunity for recreation. Bellany recounts several generations of Prestonpans children using the disused harbour as their own swimming pool after the 1930s, conveniently heated by the water dispersed from the pit boilers. Now this coastal area is a destination for walkers and bike enthusiasts. There are also plans to create a nature reserve on the site of the lagoons. Although the lagoons in themselves are dead, they have provided a sanctuary for both sea and wading birds and there are three hides for birdwatchers in the area. In the photographs I took that day, I was drawn to the themes of transition and change, nature reclaiming land itself. But I also wondered about the transitions that families had to go through in the passage of time when industries that had sustained them for so long, came to an end.
This piece was published on the website of the Elsewhere, a journal of place,  on 25 September 2017